Posted by Cold Steel on Oct 12th 2021
Choosing the Best Knife for Everyday Carry (EDC)
One item to consider adding to your everyday carry (EDC) is a reliable knife. Cell phones, keys, and wallet are items that most don't leave home without, and a quality knife can be a practical addition to your EDC list. For many people, their pocketknife is used constantly. A quality knife is useful and gives you a big advantage in many situations. Knives are practical for survival and self-defense, but they are also essential for everyday, mundane tasks. Especially in the modern world with an increase in online shopping and boxes being delivered more frequently, a knife is the first thing you reach for when you get a package. The opinions vary greatly on the best EDC knives. Everyone uses their knife for different reasons and you have to find one that is most practical for your lifestyle. Whether you are a camping enthusiast, a survivalist, a hunter, or a just someone who likes to be prepared for any situation, there are some great options out there for a reliable EDC knife.
You have to think about some different factors when choosing an EDC knife. There are two main types of EDC knives: folding and fixed blade. With so many options out there, you have to remember it's all about what feels most comfortable to you. In terms of comfort, two big aspects are the overall size and the handle material. Most EDC knives will be in your pocket or clipped on your waistband, so you want a reasonable size knife that fits your lifestyle. Do you want a smaller knife, so it goes unnoticed in your pocket? If so, then a folding knife would probably be your choice. If you want a larger knife to handle heftier tasks, then maybe you should look into a fixed blade. These are things to think about when contemplating knife size. For EDC, most prefer a blade between 2.5 and 4.5 inches long and an overall length of 7 to 9 inches.
Handle material should be considered as much as any other factor. The handle is a significant part of your EDC knife. The handle should feel secure and have a comfortable grip. You can't go wrong with G-10 or a reinforced nylon material that has a "grippy" pattern. Safety is top priority and you don't want a knife handle that slips in your hand during use. Some people favor wooden handles or other materials, but it all comes down to personal preference. You might try out several before selecting the one that best suits your lifestyle. Let's take a look at the 3 top contenders from Cold Steel® for your everyday carry knife.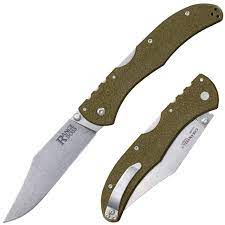 Range Boss OD Green
The Range Boss is a wise choice for every day carry. This is a full-size folding knife made to be used in any condition. It is a knife anyone can get comfortable using with its adjustable thumb stud opener for left- or right-handed users. This folding knife is designed to travel all day in your pocket or waistband with its tip-up reversible pocket clip in a stone wash finish. The Range Boss's slimmer size doesn't take up much room in your pocket and can be carried nearly unnoticed. It has a folded length of 5.25 inches and weighs in at only 3.4 ounces. The clip point blade of the Range Boss is flat ground to a sharp, thin edge and measures 4 inches. This is an ideal knife to use in wet conditions. The blade is stone washed to resist rust, which is a great feature that maximizes the life of the blade. The Range Boss Long Zy-Ex™ handle is glass reinforced nylon that is textured with a mottled pattern. This pattern ensures a good grip as well as making it comfortable in your hand. One of the best features is Cold Steel's Tri-Ad® lock for unmatched strength. The Tri-Ad® lock ensures safe use during arduous cutting tasks.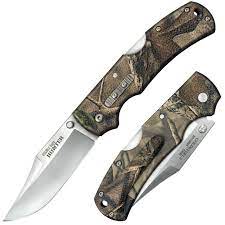 Double Safe Hunter
If you're set on a high-quality folding knife that won't break the bank, you need to check out the Double Safe Hunter. It's modeled after Cold Steel's popular model, the Voyager®. The extra sharp, clip-point blade is made of 8Cr13MoV steel and measures 3.5 inches in length. High in carbon, the 8Cr13MoV steel blade is extra durable and has maximum cutting ability. Ready for any task, you can be assured you have the right knife on hand. The blade is small enough for intricate cutting, yet big enough to skin an elk. The handle on this model is made from glass-filled nylon (GFN) material. It is available in three handle colors: blaze orange, OD green and camouflage. The grip is designed for comfort and to reduce fatigue for extended use. The Double Safe Hunter features a sturdy steel pocket clip that will keep the knife tight to your pocket or waistband. Cold Steel® always outs safety at the top of the design process. The Double Safe Hunter contains a state-of-the-art rocker lock which features a secondary safety mechanism, that when employed is extremely resistant to brunt force.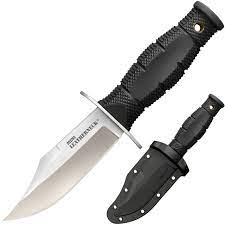 Mini Leatherneck
For those who would prefer a fixed blade EDC knife, the Mini Leatherneck might be the way to go. This knife has slick look and resembles a mini combat or utility knife. This hardy looking knife is also reasonably priced. The overall length is an ideal 6.75 inches. It is lightweight and only 3.1 ounces which is a great size for a boot knife. The blade is a 3.5 inch 8Cr13MoV steel that is offered in three blade styles, each features a stainless steel guard with extended quillons to protect your hand. The grip is made from Kray-Ex™ and is designed to be resonant of Cold Steel's larger Leatherneck models. This grip was made specifically for high performance in difficult conditions. Mini Leathernecks come with a robust, strong Secure-Ex™ sheath that will attach to a lanyard or a Cold Steel® C-Clip. The Mini Leatherneck is a tough looking knife and is extremely durable.
Your everyday carry knife should fit your lifestyle and perform when you need it most. With many brands and styles on the market, Cold Steel® offers high quality products made to operate in all situations. EDC knives should be compact and easy to carry. Both folding and fixed blade knives have their benefits but its best to try a variety of styles and find the one you are most comfortable with. You don't have to spend an arm and a leg for a good knife and the ones mentioned in this article are very reasonably priced.