Posted by Heath Wood on Jul 30th 2021
As my passion for outdoor cooking has ignited the past few years, I have fallen in love with the thought process that goes into creating a new recipe. There is always novelty and wonderment in how each cook will taste and look while creating a new recipe. When cooking wild game, coming up with new, delicious, and creative dishes can be challenging. One of the best tips I gathered for outdoor cooking enthusiasts was listening to a podcast featuring one of my favorite outdoor cooks Jeremiah Doughty from Field to Plate. He shared that one of his favorite ways to create new recipes was to take whatever meat recipe you like and replace it with wild game. All though that sounds simple, it brings out one's inner creativeness.
I took Doughty's advice and put my spin on a brisket Reuben sandwich that I love from a local restaurant. The flavors of this sandwich are so pleasing that I decided to recreate the sandwich and replace the brisket with a flavorful elk medallion from the Mossy Oak Gamekeeper Butchery.
During this cook, I confirmed a recent find in outdoor cutlery that has been proven to be effective in the field while hunting and processing wild game. I have found that the Cold Steel Tim Wells Slockmaster Knife can be a great tool in my outdoor kitchen as well. The sharpness is unmatched, slicing through most types of the wild game without hesitation. And the unique grip on the Slockmaster knife allows the knife to never slip out of my hand when water, oil, or blood get in the way. Below is the recipe for my Smoked Elk Reuben Sandwich that I prepared and served with the help of my Slockmaster knife.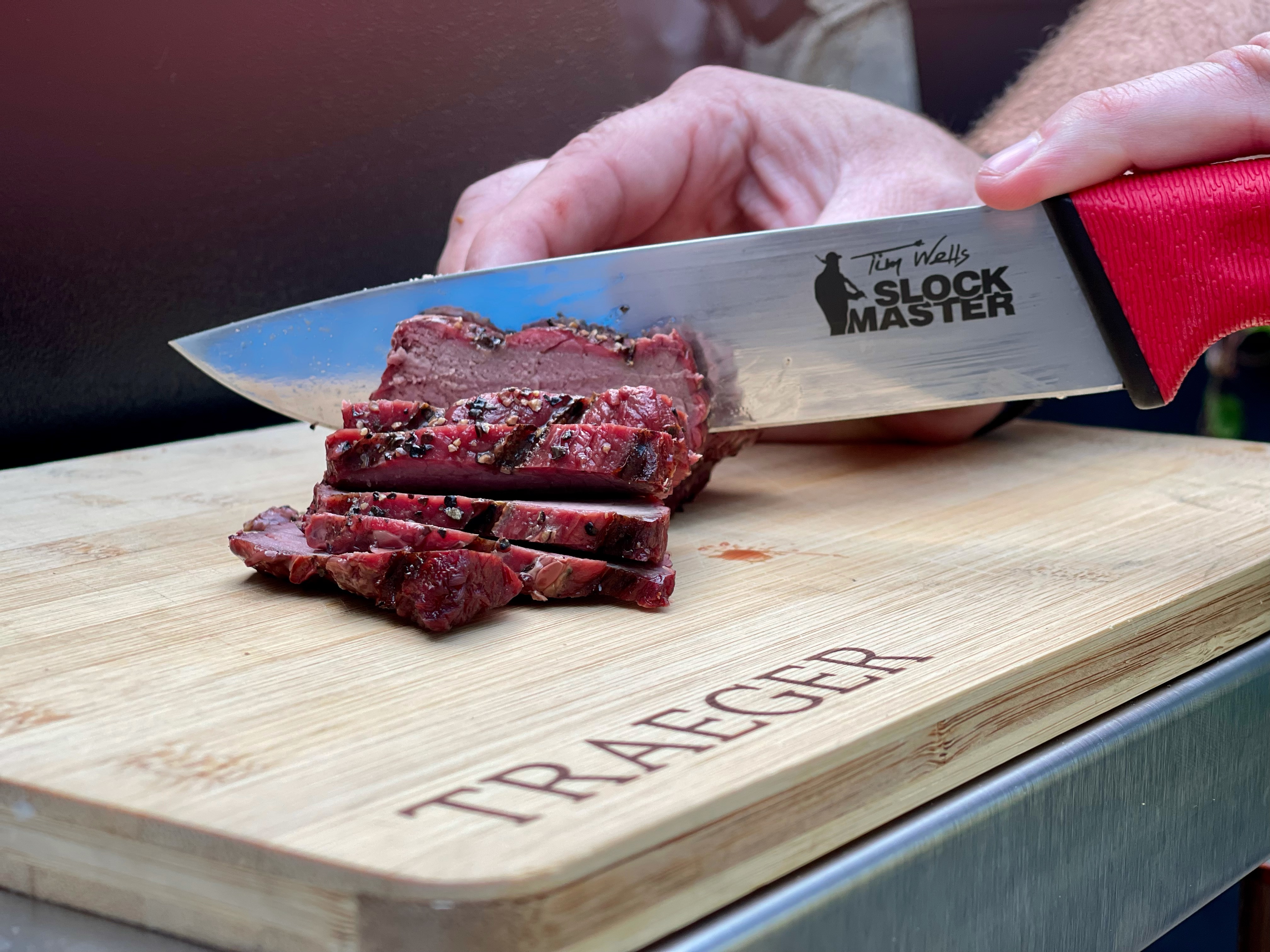 Ingredients:
Per Sandwich
Two slices Marble Rye Bread
Two slices Swiss Cheese
8 oz. Elk Medallion
Kosher Salt
Coarse Black Pepper
½ cup Sauerkraut
Sauce:
¼ cup mayonnaise
½ tsp lemon juice
1 ½ tsp of prepared horseradish
One garlic clove minced
½ tsp Worcestershire Sauce
½ tsp grated onion
1/8 tsp paprika
¼ tsp salt
¼ tsp pepper
Prepare:
Preheat the grill to 325 degrees to cook the elk medallion using Traeger Cherry Flavored wood pellets. I used my Traeger Grills Ironwood 885.
After the grill reaches the desired temperature, add kosher salt and coarse black pepper on both sides of the meat.
Place the medallion on the top rack. Cook until the internal temperature of the elk reaches 150 degrees. After the internal temperature is met, remove from the grill and let rest for 10 to 15 minutes.
A traditional Rueben typically features deli-style sliced corned beef. However, I have tried them with thinly sliced brisket and other types of meats. Since I love the flavor and texture of the brisket Rueben, I like cooking the elk medallion with kosher salt and pepper the same way I like smoking a brisket. Though it does not taste like brisket, I enjoy the salt and pepper's smoked flavor it provides. The elk medallion has its own unique wild game flavor that pairs excellently with the remainder of the traditional Rueben ingredients.
I like to slice the elk thicker than deli-shaved meat yet still maintain thin slices. I use the Cold Steel Tim Wells Slock Master knife on a small cutting board, which is sharp and creates a perfect thin slice on each cut. I slice the entire 8 oz medallion. After completely sliced, I proceed to add the final touches to the sandwich.
Take two slices of marble rye bread and place melted butter on one side of each slice. Place 8 to 10 slices of elk on the first layer, follow with a layer of sauerkraut (approximately ½ cup), two slices of swiss cheese, and a teaspoon or more of sauce. Place the second slice of marble rye bread to complete the sandwich and grill each side in a hot skillet until lightly brown on each side or until cheese is melted. Using the Slock Master knife, slice the sandwich in half and serve!